Welcome back. After last seasons amazing 2.Bundesliga campaign where we ended a respectable 11th place we now need to start kicking on. Expectations are still really low but I have hope we can at least match last seasons finish. This season for me, with the extra money to spend, is all about ticking off nations. I've fallen behind my expected 10 per season so this year I am going all out for the "big tick off"!!
But before that let's see how the season went result wise.
DFB Pokal
What a run we had in the German Cup!! Lower league side Reutlingen were dispatched in the 1st round before a sensational result against the then 2.Bundesliga league leaders Karlsruhe. We then faced another 2.Bundesliga side in the 3rd round where we ended up scraping past Hannover in extra time.
Then, in the Quarters, we faced Bundesliga side Monchengladbach and as expected we lost, but once again we got utterly obliterated, 7-1!!!! The second season in a row we went out by that score.
That run though gave us so much money! An extra £1.5m in gate receipts and around £2m in prize money!!!

2.Bundesliga
Now to the league and what a season!!!! We started decently with 3 straight win before the wheels slightly came off, 5 defeats in the next 7 but we were still nicely in 7th place. The final few months of the year picked up slightly with 3 wins from the 7 games played and as we entered the New Year we sat in 5th place.

New year, new optimism. I brought a few new players in and boy did results pick up. Janaury though wasn't great as we lost 2 of our 3 games but then, with quite a few nations ticked off I decided to go all out and play my best team possible (with a couple of exceptions) and it worked a treat.
February ended with 4 wins from 4, March 5 points from a possible 9 and at this point we were well within a chance of promotion. The teams above us had started to falter and with us gaining 17 points from 7 games we had closed the gap.
April came about and we again did well but one defeat to league leaders Karlsruhe set us back. 7 points from 4 games though kept us in the hunt of that 3rd place spot, which would put us in the playoffs.
The came then final month, we knew we needed to win all 3 games to have any chance and we won the first 2, this included a massive 2-1 win over 3rd placed Werder Bremen in the penultimate game, this win put us level on points with them with a game to go, they had a better goal difference so we knew we had to win and hope they slipped up.
Unfortunately though we were to have one of our poorest outings of the season, losing 1-0 to mid-table Darmstadt, Werder Bremen won their game anyway meaning we had missed out on the playoff spot by the skin of our teeth.

What a season though!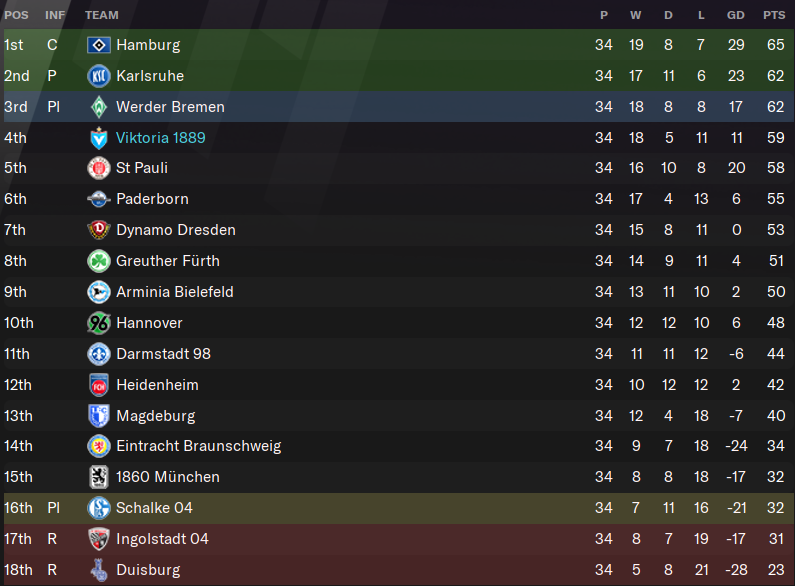 To come so close to promotion is so pleasing. A point gained here or there and we would've done it. 4th place is huge, our highest finish and it gives us £13m in prize money!!!
The good thing this season was how quickly I ticked off some nations, this meant that in the second half of the season the challenge took a backseat meaning I could put out near full strength teams. My signings this season were amazing, nearly everyone who came in strengthened the side, yes I did bring in a few not so good players from smaller nations but even some of them were brilliant.
So let's see which nations I ticked off, warning: there are a lot!!!
Nations Ticked Off
Nation 49 – Monserrat
I had Donervon Daniels at the club last season, he played more than enough games but could not score or get that 7.5+ rating. This season though he made an instant impact. He got a 7.6 rating in early August in a 1-0 win over Hamburg and then scored the only goal in a 1-0 win over Paderborn a few weeks later.
Nation 50 – Zanzibar
I actually never thought I'd tick this one off. Nassor Azzan has been here for 3 years and although he had played enough, like Daniels, could not tick off the rest. He also started the season well. He got a 7.9 rating in the 2-0 win over Reutlingen in the cup and then scored a penalty in the 3-0 win over Magdeburg, eventually!!!
Nation 51 – New Caledonia
Another nation that has taken me ages and has actually taken 2 players to complete it.
Firstly I had Jakob Jeno at the club between 2022 and 2024, he played enough games and scored twice but didn't get the 7.5+ rating. He was in on loan and got a serious injury and was recalled.
Last season I brought in midfielder Pierro Beko to try and get the rating, last season he was poor but this season he came in and in mid-September eventually did it. A 7.5 in the 3-1 win over Greuther Furth.
Nation 52 – Tunisia
A massive signing in the Summer, signed for £150k to play up front, Sami Agrebi was an instant hit. He scored his first goal in the 3-0 win over Magdeburg in mid-September before a 7.9 in the 3-1 win over Greuther Furth. He ended the season as the club's young player of the season and top scorer with 16 goals.
Nation 53 – Scotland
A free transfer signing after his contract expired at Queen's Park. Liam Brown is a top quality midfielder for this level. It didn't take him long either, scoring and getting an 8.4 rating in the 2-0 cup win over Reutlingen, over the season he made 17 appearances, he would've played a lot more if it wasn't for the challenge!
Nation 54 – Zambia
A really decent Striker/Attacking Midfielder joined in the Summer. Chanka Zimba came in and was key to our success. He scored his first goal in the 1-0 win over Hamburg in early August and grabbed a 7.5 in the 3-0 win over Magdeburg. Over the season he played 28 times, scoring 10 and got 14 assists. The most at the club this season.
Nation 55 – Syria
Another quality player. Mohamad Al-Barri came in to play attacking midfield. He scored his first goal in the opening game of the season, a 2-1 win over Ingoldstadt before getting an 8.1 rating in the win over Greuther Furth. Overall he made 30 appearances throughout the season.
Nation 56 – South Korea
The second intake player to tick a nation off. Jeong Ji-Hun came through the 2025 intake. It's taken him 2 seasons and 22 games but eventually he did it! He scored his first goal last season in the 2-1 loss to Hamburg in May, he then got a 7.5 in the 1-0 win over 1860 Munchen in late-November.
Nation 57 – Ethiopia
A defensive midfielder that joined on a free in the Summer. Amanuel Yohannes was amazing and key part of our great season. He gained a 7.8 in a 2-0 defeat to Karlsruhe in late-October and then scored in the 3-0 win over Braunschweig in early November.
Nation 58 – Mongolia
A Summer loan signing, a last minute thing after he was recommended to me. Ganbold Ganbayar was another really good player who probably didn't play as much as he would normally have. He scored in the cup win over Reutlingen and got a 9.5 in the 4-2 win over Duisburg in October. He only made 23 appearance, 14 of those as a sub but scored 5 and got 5 assists.
Nation 59 – Tanzania
Another last minute Summer signing, Deus Kaseke didn't start in the team as I had better players but once he got his chance he did well. He scored in the 5-1 win over Ingolstadt in January before getting a 9.2 in the 2-1 win over Hannover a few weeks later. He made 18 appearances over the season, scoring 4 times.
Nation 60 – Wales
A free transfer in the Summer, Welshman Josh Thomas was really good when called upon, the Striker scored in the 3-1 defeat to Heidenheim in late-August and then got a 7.9 in a 1-0 win over 1860 Munchen. He only made 10 appearances as he fell out of favour once he ticked his nation off.
Nation 61 – Solomon Islands
Now for 2 obscure ones! Firstly Rodney Wasi of the Solomon Islands, a half decent central midfielder signed on a free in the Winter. I have to say he was brilliant! He got a 7.6 on his debut in a 2-1 win over Hamburg before scoring his first goal in late-February in a 2-1 win over Magdeburg, he ended up making 12 appearances.
Nation 62 – Tahiti
And finally! I have no idea how I did this one. I couldn't scout Matteo Floch as my scouting range isn't big enough but based on his attributes I felt he had something in him. The ratings say otherwise but my word was he good! He got a 7.5 rating in his first start at the club, a 1-0 win over 1860 Munchen in late-November before scoring his first goal in mid-March, a 3-3 draw against St Pauli. He made his 10th appearance in the final game of the season.
I'm not sure this season could've gone much better! 4th place in the league, a shed load of money brought in and 14 nations ticked off! Stunning!
There were however a couple of nations that I just missed out on.
Abiass Traore – Burkina Faso – He played 33 games scoring 1 goal, got 7.4 6 times but never got a 7.5+! So frustrating.
Charmaine Hausl – Seychelles – Played 18 games, he did get a 7.5 rating but failed to score.
Taka Borja – North Mariana – This lad has now been here for 4 seasons, he's played 33 games, scored 5 goals but still no 7.5+ rating. I'm not sure how much longer my patience can last with him! He is awful!
Key Men
Player of the Season – Defender Jakob Lewald won the award for the 3rd season in 6. A top player who this season played a lot more due to the fact I tried to play with a settled back 4. 28 appearances and an average rating of 7.27. Top quality.
Goalkeeper Elian Clasen ended with the most POTMs. A mainstay in the side since my second season, another really good year for the lad with 13 clean sheets in 38 starts.
And here for your perusal is the whole squad.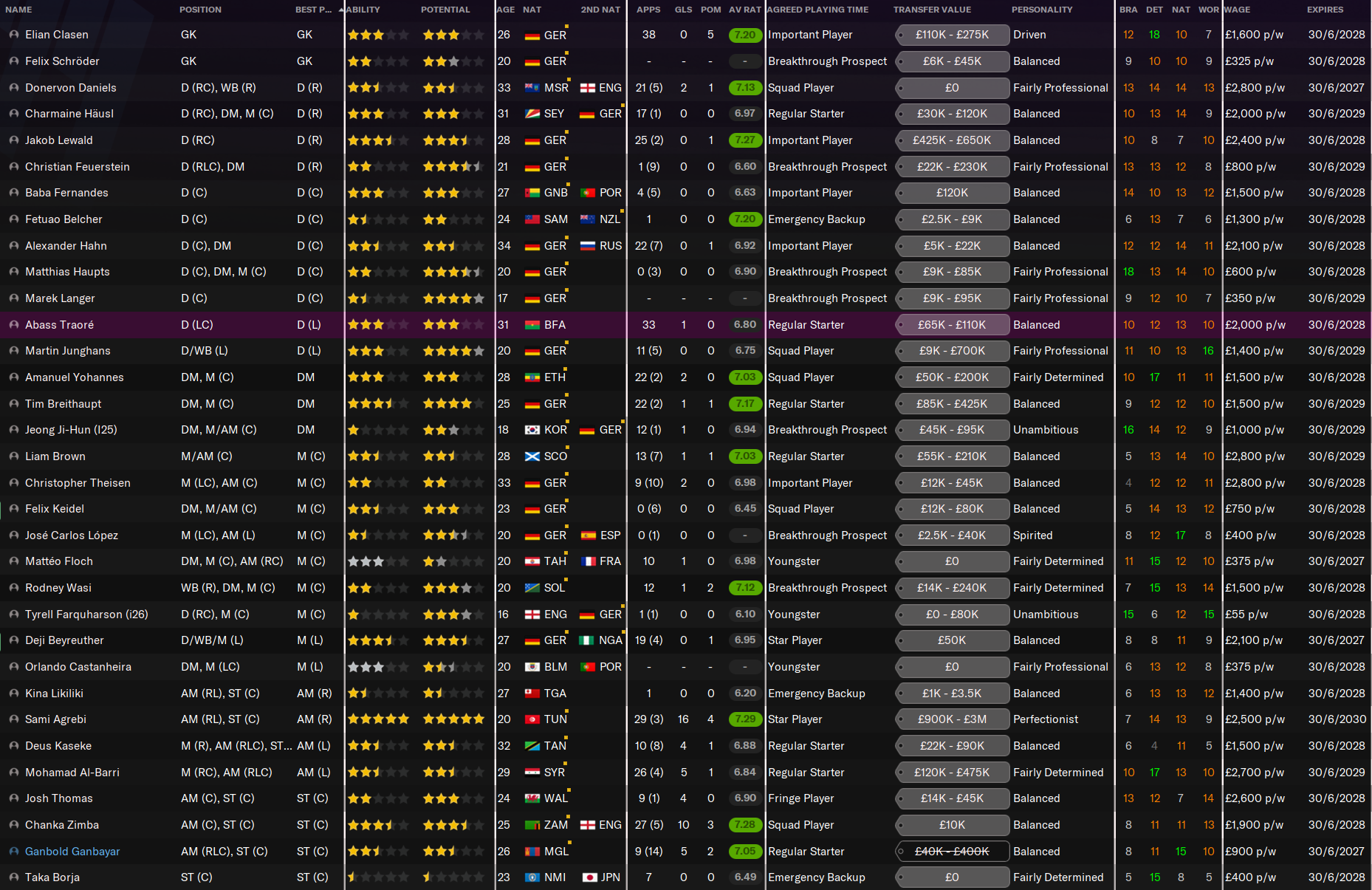 Next Season
A fantastic season, a money making season and also the best one challenge-wise yet. Now I look forward to the next campaign and I hope we can continue our climb up the table.
Clearly there is going to be a big change in the playing squad, the core German players like Clasen, Hahn, Lewald and Beyreuther will hopefully stay but I plan to ship out any non-German player which has ticked their nation off. This will mean a good 14 players will be sold and new players brought in.
The Summer is always the toughest when looking for new nations, however with our scouting range expanding and the finances much better it means I can now scout better players and more players at that. Here's hoping I can have another successful year on the pitch and in the challenge.
The board have been generous again with their budgets, this shows you how much better the finances are.
The wage budget tops £100k per week for the first time. A good £30k jump on last season. I also have nearly £3m to spend. Do I plan on spending it? Probably not transfer budget wise, but the wage budget will be spent, I need to continue to bring in better players and those better players want more money.
As you can see above the bank balance is now very healthy. A near £10m profit this season but, like last season, if you take away the league and cup prize money we would be making an unimaginable loss. It's good now as I don't really need to be paying too much attention to the monthly losses as I know the prize money will wipe it out. Costs are still going up though, the wage budget went up by 50% from the season before which is only going to increase.
Another good thing this season is I have eventually managed to get the board to agree to some facility upgrades. The training and youth facilities have both gone from below average to average and the youth recruitment has gone from fair basic to average.
It's great to eventually have money to start improving not only the playing side but also the club in general.
Here's hoping with a new influx of players this Summer we can push even higher up the table, that would mean a serious shot at promotion! Let's hope I'm not being too optimistic!
Thanks for reading.
Steve/LutterworthFox