I always think the second season in a save is the toughest, well this one has been properly tough! Results wise it's been OK but this challenge is really really hard, especially when you go out and sign 18 different nations, most of whom are terrible!!!
Before I go through which nations I've ticked off (or not as the case may be), let's firstly take a quick look at how the season went.
Last season we massively over-achieved and I always knew it would be hard to replicate that again this time around, at times it was really hard, mainly because I spent so many games rotating, trying to tick nations off and switching formations to suit the players I wanted to play. Because of this the results suffered in patches but overall, for a second season, we ended higher than we were predicted.
4th last season, 7th this time around, we actually ended up on exactly the same points so I have to be happy with how it's gone, especially when you take into account we lost 22 players during the Summer.
As we began pre-season we had 12 first team players. Recruits were needed and seeing as I needed to tick nations off the challenge I went totally mad and in the Summer brought in 14 players from 14 different nations, that increased to 18 as I brought 4 players in during the Winter window!!
Results wise we once again started poorly, it took us until the 5th game to register a win, we then won 4 of the next 5 before losing more games. Form was patchy all season, our only decent run came in February when we won all 4 of our games. We spent most of the season in mid-table, at our lowest we were 16th and that was after 3 games, and we never went higher than 6th, so 7th is a good season overall, for a team which changed nearly it's whole playing squad and had to integrate so many different nationalities I have to be happy.
So results wise great but I won't lie the challenge did not go how I planned! 18 different nationalities came in, only 7 were completely ticked off, I wanted to do 10 a season, I failed. If it wasn't for an end of season run it would've been even worse! I ticked off 3 nations in the final 4 games.
Results – July to December
Results – January to May
So let's take a look at which nations I completely ticked off.
Nation No. 11 – Guinea
Moussa Doumbouya was here on loan last season, he had already ticked off the games played and goal scored but hadn't got that POTM, so I decided to bring him back on a free transfer, it took him another 8 games to get a POTM but eventually did it at the end of August in a 2-1 win over Hallescher where he also scored a brace.
Nation No. 12 – Thailand
Korawich Tasa was signed in the Summer and it didn't take him too long to do what was required, a decent signing even if I wasn't looking to tick Thailand off. He scored his 1st goal for the club in his 4th game, a 2-0 win over Zwickau and then won POTM in 15th game, a 3-2 win over Dortmund B
Nation No. 13 – Equatorial Guinea
Salomon Obama was signed in the Winter, it took from November when I ticked Thailand off until Mid-March to get another nation 100% completed! Obama came in and was fantastic, he scored and won POTM in his 4th game at the club, a 2-1 win over Viktoria Koln, he then only had to play 6 more games and the nation was complete.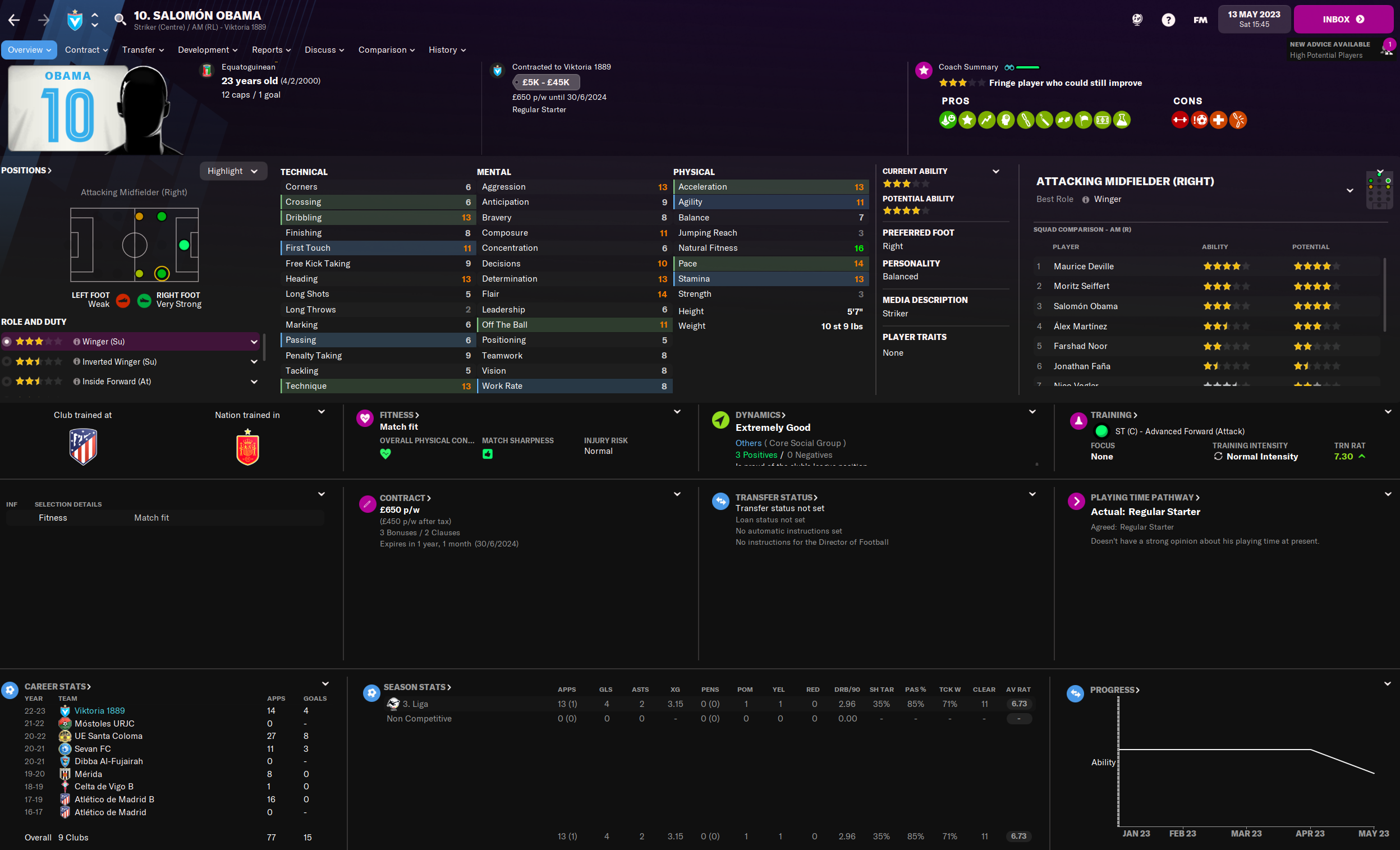 Nation No. 14 – Curacao
It was also the same for midfielder Leandro Bacuna, a big signing and the first time so far I've signed a player I've heard of. He came in and made an instant impact, scoring and winning POTM in his first game at the club, a 3-1 win over Oldenburg, he played 9 more times and Curacao was done.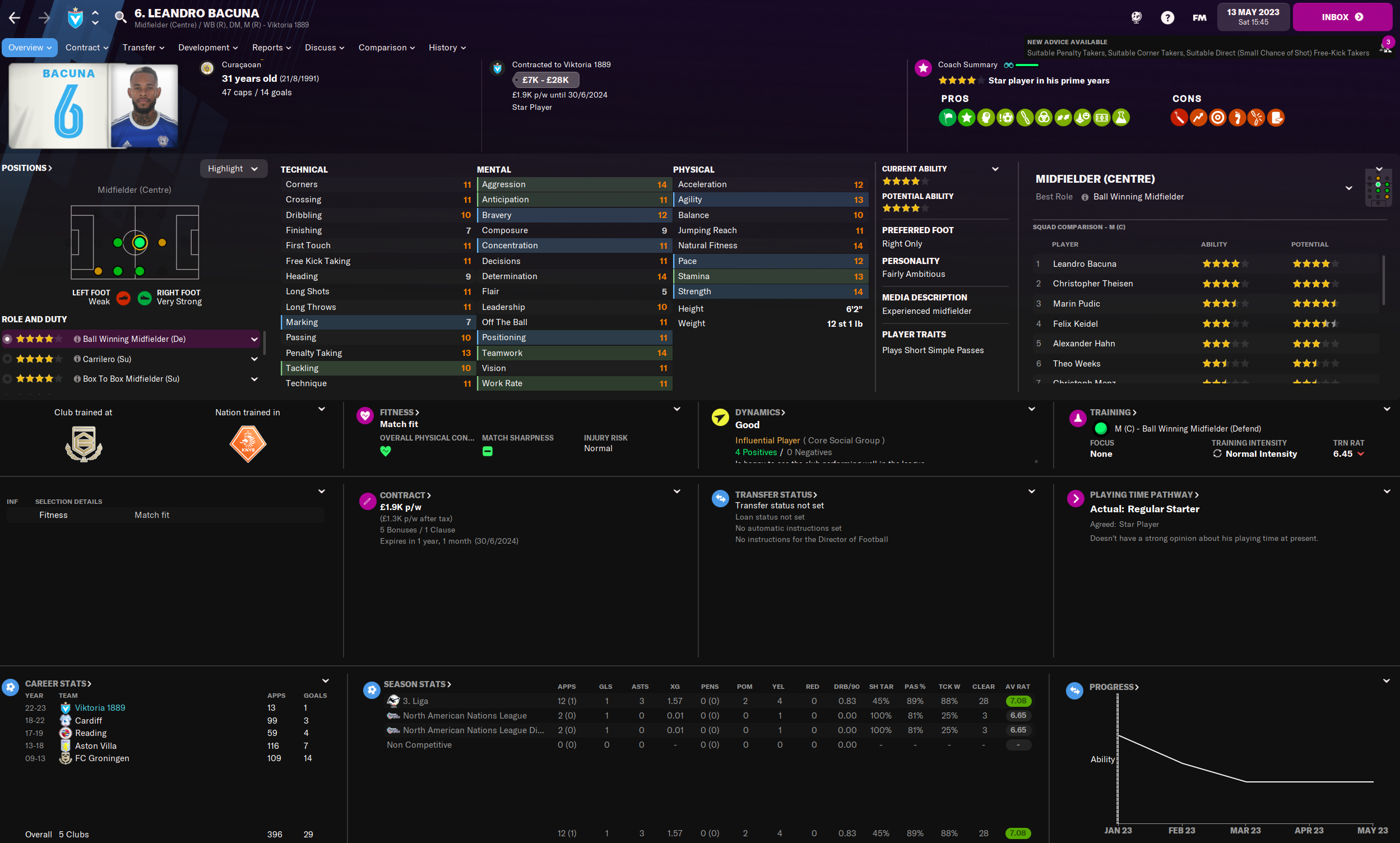 Nation No. 15 – Luxembourg
Maurice Deville was another Winter signing, the Striker came in and was utterly amazing, in his 15 games he scored 7 times, his first coming in his opening match where he scored twice in the 3-1 win over Oldenburg. Even though he was scoring he kept getting nicked to the post for that POTM award. It took him until his 14th game to win the award, he scored twice in a 2-0 win over Koln B.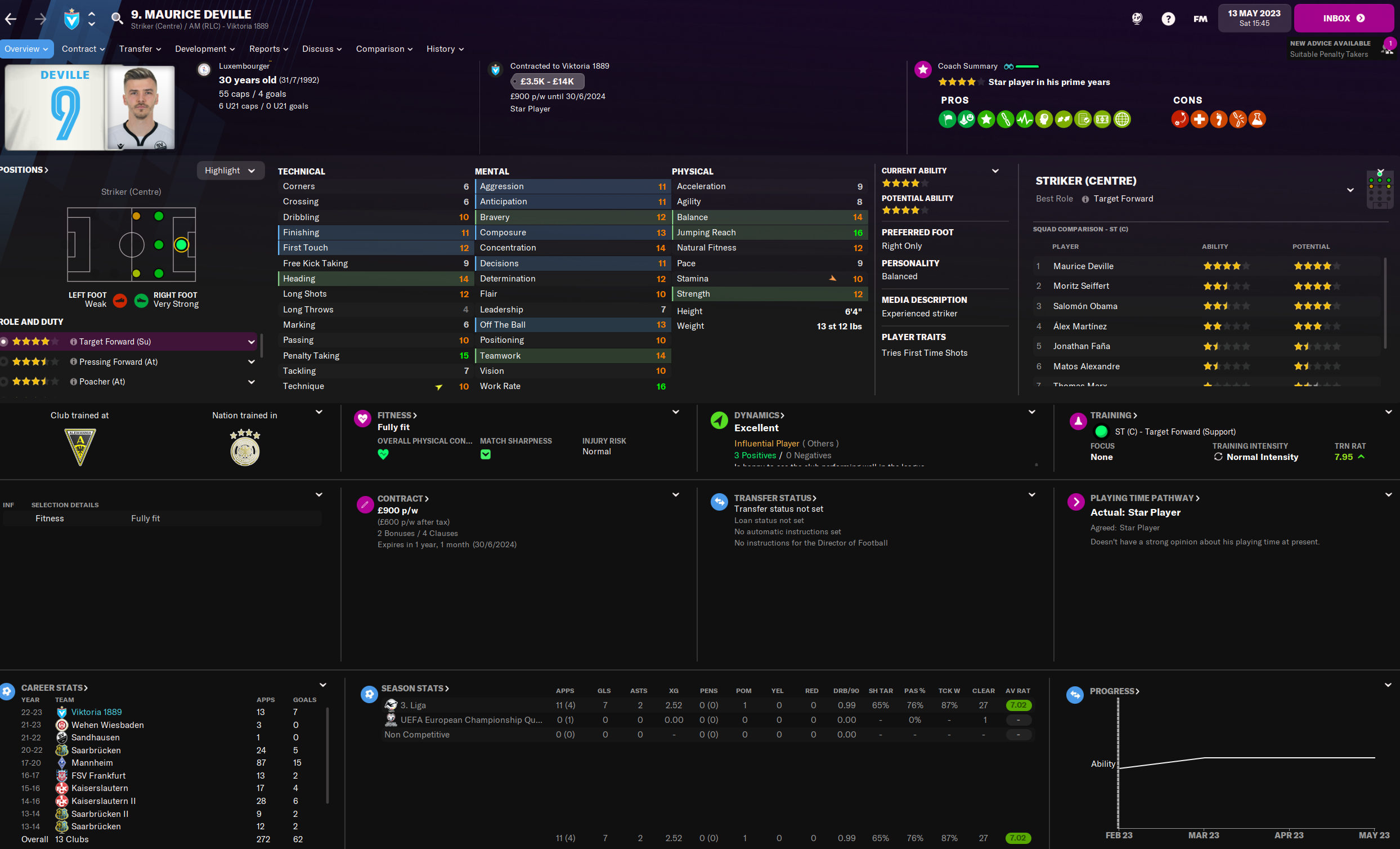 Nation No. 16 – Iraq
Man this one took ages, in the Summer I signed Left Back Mohammed Ali Kadhim, actually a decent enough player but it took him forever to do what was needed. He got a POTM in a 2-0 win over Turkhucu Munchen in mid-February and then, eventually, he scored in his 26th game, the 36th match in the League, a 2-0 win over 1860 Munchen, it was a penalty!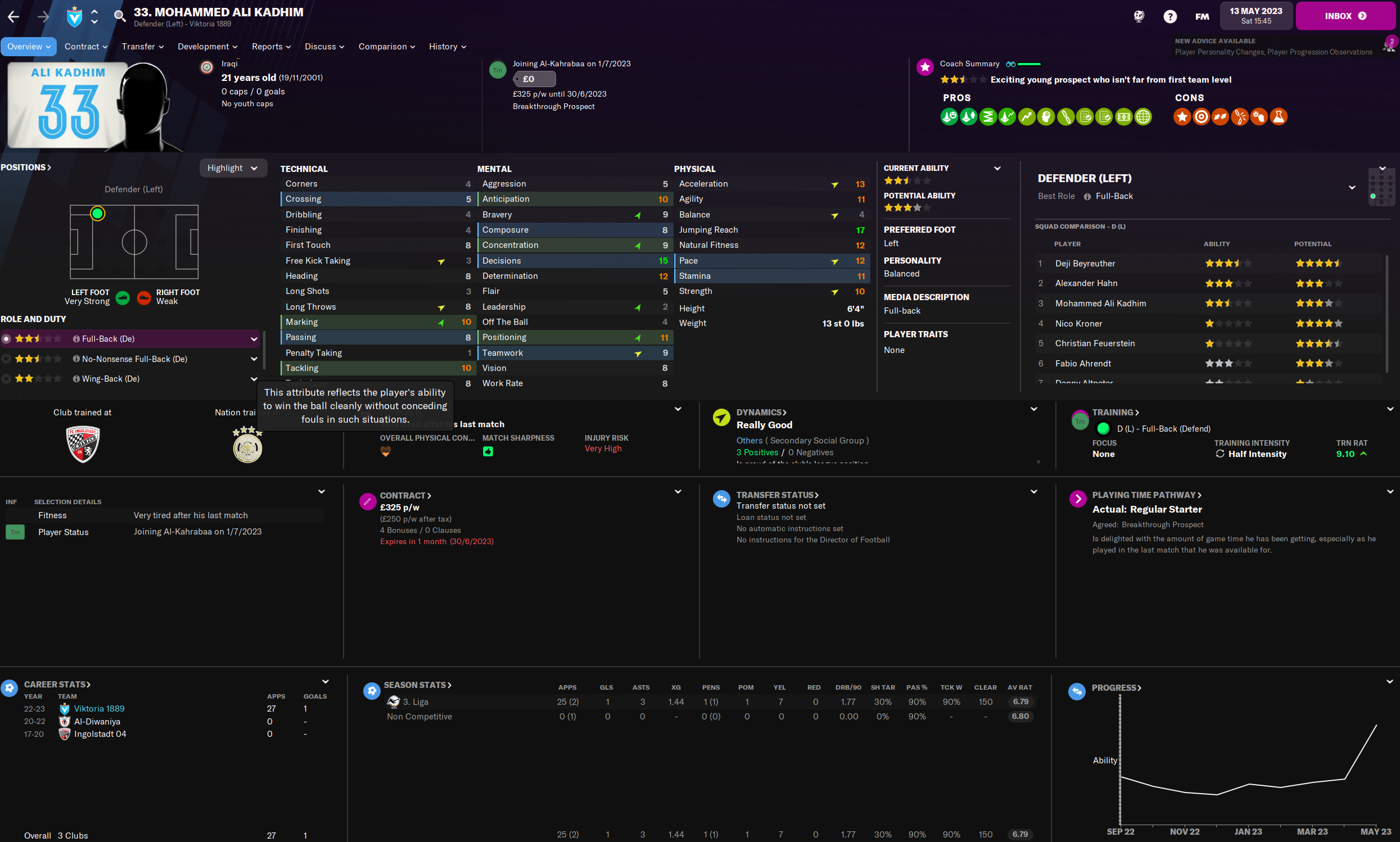 Nation No. 17 – Andorra
The 7th nation of the season was completed in the final game, I signed Striker Alex Martinez in the Summer but unfortunately he got a nasty injury in early-November putting him out for 6 months. He only played 13 times throughout the season, winning the POTM in his final game before his injury in training, a 2-2 draw against Koln B, he got a 9.1 rating, no goals, 1 assist but 15 key passes. He then eventually scored his one and only goal in the last match of the season, a 2-2 draw against Champions Kaiserslautern.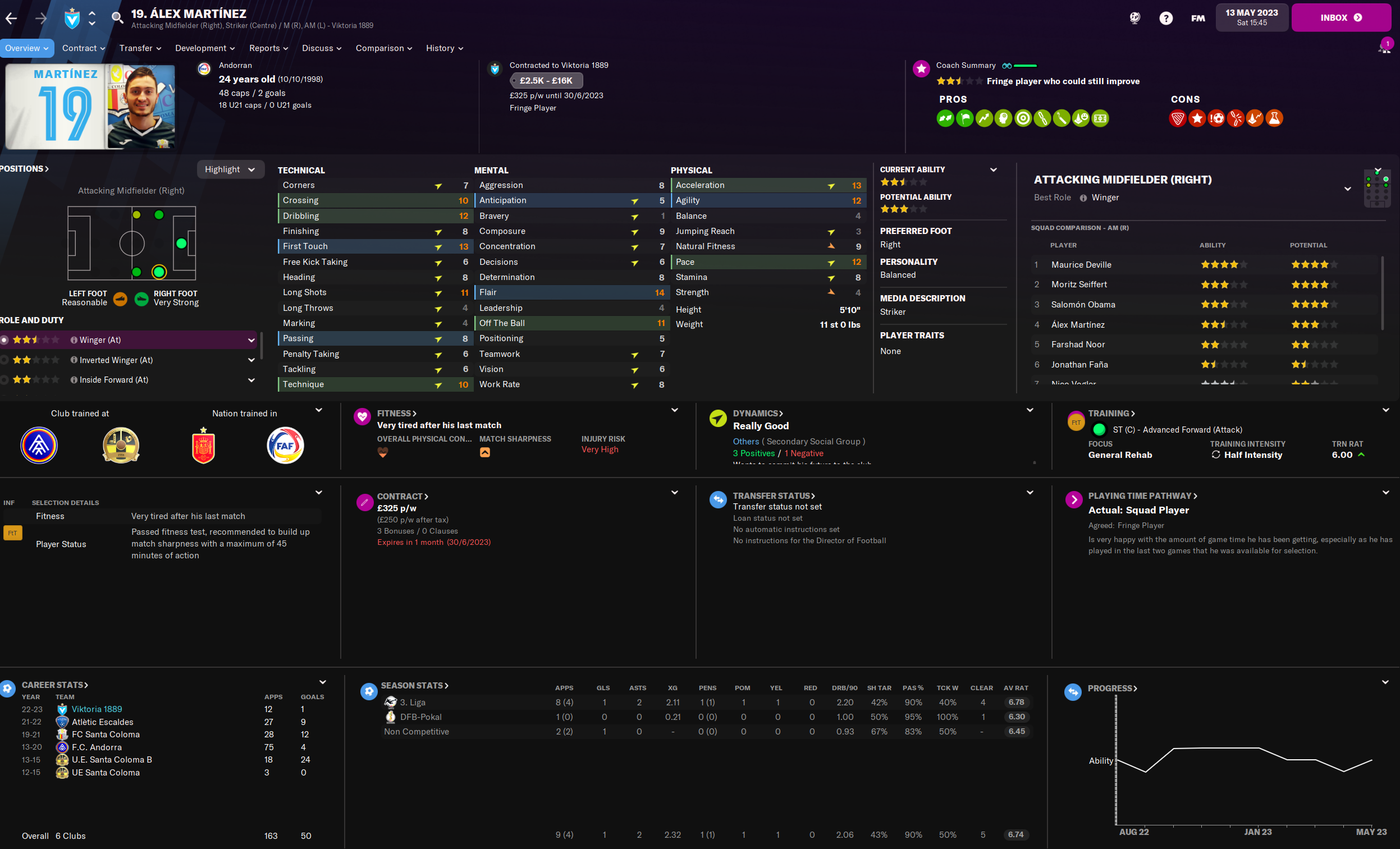 Nations Partially completed
Afghanistan – Right Back Farshad Noor played 33 times and scored twice but failed to get a POTM.
Macau – Striker Matos Alexandre played 16 times and scored 3 but failed to get a POTM.
Northern Mariana Islands – The worst player I've ever signed, Striker Taka Borja played 13 and scored 3 times but failed to get a POTM.
Liberia – Midfielder Theo Weeks played 26 game, scored 2 goals but failed to get a POTM.
Croatia – Marin Pudic was signed for a second season long loan, he was injured for half the season but has now played 33 matched, scored once but hasn't got a POTM.
Fiji – Midfielder Leroy Jennings played 21 times scored once but hasn't got a POTM.
New Caledonia – Central Defender Jekob Jeno, on loan from Grenoble played 28 times but has failed to score or get a POTM.
Dominican Republic – Winger Jonathan Fana played 31 times and scored 6 but failed to get a POTM.
Haiti – Central Defender Jems Geffrard played 12 games and scored once but didn't get a POTM.
Saint Martin – Midfielder Kevin Zonzon played 12 games and scored once but failed to a POTM.
There was also one nation that didn't tick anything off.
Guinea Bissau – Central Defender Baba Fernandes came in during the Winter window but only played 6 times, mainly because he got injured twice and has spent most of the second half of the season on the sidelines.
Other Key Men
Player of the Season/Top Scorer – Jacob Lewald.
It tells you all you need to know when your central defender is top scorer at the club with 7 goals! He also won 6 POTM awards, 3 times more than any other player! A great season for the lad even though he didn't play as much as he wanted due to my constant rotating!
Most Assists – Deji Beyreuther
My back-up Left back got the most assists……5! Yeah not great!
And here is the whole squad for you to glance over.
The Ongoing Financial Mess
A quick word on the finances, yeah awful! We end the season £1m in the red, we actually made a profit of £800k this season, how? The board pumped in £1.5m throughout the campaign to stem the losses! Yeah bloody terrible!
Projections aren't great either.
I said though the one thing I could do was bring the wage budget down and with most of my high earners leaving in the Summer to be replaced by cheaper foreign players I did what I promised to do.
During the Summer the wage budget went from £36k per week to £19k per week, it did increase with the the Winter signings to £27k per week but still that's a 25% cut in the wage bill over the season. A saving of around £500k.
What hasn't helped is the board took out a £2m loan to pay for undersoil heating, repaying £20k per month for the next 10 years!
So more work needed on the finances, what we need to do is to try and attract more fans to the games, we have a stadium which allows us 8k, our average attendance is 1,372 and most games it was hovering around 800. This is not good!!
What Next?
So overall a decent season, another over-achievement in the league but challenge wise I feel like I fell just short of what I wanted to do. I hoped for 10 nations ticked off, I actually did 7 but there are 10 nations in my squad which are partially ticked off.
So I have to keep those lads around and get them to tick off what required. For most of them it just that pesky player of the match award that's missing.
Those who have done what's required will leave to try and reduce the wages and maybe, you never know, bring a bit of money in (yeah right!).
So I don't plan on bringing too many players in during the Summer. I really don't feel I can add anymore different nationalities into this squad until the ones that are here are done and dusted.
I will however need to bolster my ranks otherwise I'd be short of players, so my plan is to bring in a few German or German-based players either on frees or preferably loan deals to just add some depth. Again though, like last season, what I need to look at first is the sheer number of players out of contract, there is a lot again but most I feel this time will agree new deals as I do have spare wages to spend. I bloody hope so as I really don't need another squad rebuild!!!
It's been quite nice playing a save and not concentrating fully on getting promotion, at the moment it's all about getting players scoring and winning the player of the match. It's probably not gone as well as I hoped but I do feel next season I can get a good chunk of nations ticked off. Hopefully the ones that are here happen quickly then I can move them on and bring new lads in to tick off new nations in the Winter window.
One thing I really have to do is settle on a formation and style of play, I've messed about way too many times this season, from a 41221 to a 433 with 3 Strikers, to a back 3, to a narrow diamond. Nothing seems to click but maybe I need to strip it back, go back to basics and let the players settle into a system.
Anyway that's all from me for now.
Thanks for reading.
Steve/LutterworthFox