Welcome back! Firstly, thank you so much for the support on the intro post, the comments, interaction and general positivity I've had has been nothing short of amazing and for that I thank each and every one of you.
Anyway, soppy shit out the way let's get down to business.
I've reached the end of my first season at Viktoria 1889 Berlin and my word it's been fun, we were expected to end in the relegation places and at points it seemed that's where we'd end! The main thing though this season (bar staying up) is to get some of these smaller nations ticked off the list, overall it's been pretty successful! Tip for this challenge though: Don't buy defenders!!!
Before I go through what I've ticked off in my first season let's firstly take a look at how we have faired in the league.
3.Liga
I won't lie, 9 games in and I was very VERY worried, we'd gained 8 points with only 2 wins we sat in the bottom 4. I had been messing around with tactics and needed to settle on something, I also needed to settle the side a bit more and those little things made all the difference. I decided to stick with a 41221 formation and although results were still patchy we started to play better. We were expected to be in and around the relegation zone and as the year ended we sat in 11th, only 5 points clear of the relegation spots.
Then came the turnaround of all turnarounds. I'm not sure what happened in the New Year but we started to play incredibly well. We lost the odd game but overall, the final half of the season was amazing. 19 games, 11 wins and 37 points pushed us miles clear of the bottom half and at one point we looked like mounting a very late promotion push. Unfortunately a couple of draws at the end meant we had to settle for 4th place.
Results – July to December
Results – January to May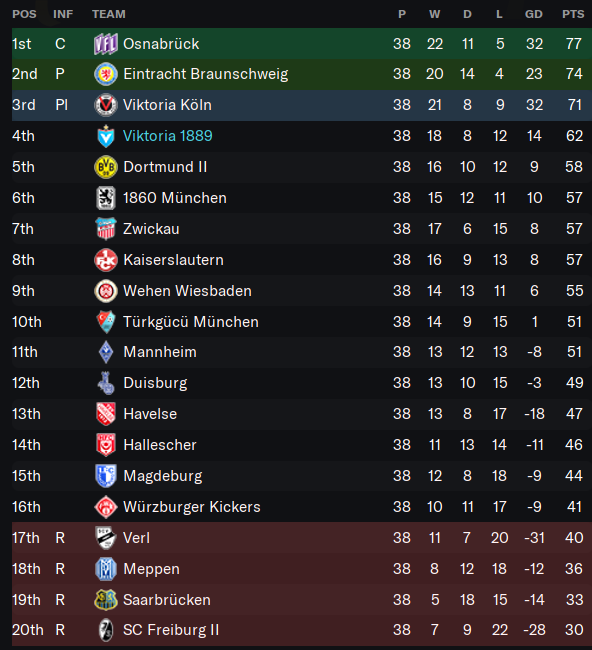 For a team predicted to struggle that was an incredible season, if only we hadn't started so badly we could've been in with a massive shout of promotion!
An Unexpected Squad Rule
Now for something I only noticed once I got into signing players. I was told that there were no foreign restrictions in Germany but that only relates to the Bundesliga and 2.Bundesliga, here in 3.Liga we do have restrictions which, as long as we stay in this division, may slow down the challenge.

We are only allowed 3 Non-EU players in our squad with a minimum of 12 German players as well. So it means that the Non-EU nations may be a little slower to tick off.
The strange thing is there are a few nations that are classed as EU even though they aren't in the EU!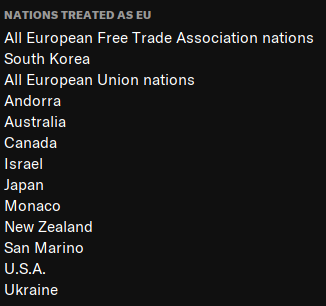 Yeah very odd!
Nation Hunting – Pre-Planning
So before I go through which nations I've ticked off I wanted to just take you through some of the things I did to try and keep track of the nations I've completed and also how I am trying to find those players from the smaller nations.
The first thing I did was create a shortlist for each continent, after that my main port of call was to trawl through the national teams. This is painstakingly slow but the best way I can find of getting every player in a shortlist.
So I go to the national team and shortlist all the players they have (bar goalkeepers because what's the point, I need players who will score goals! This currently is only for those smaller nations, the ones where I need to get them done before we start moving up the leagues. Obviously this is slowed a bit by the fact we have a foreign restriction to adhere to.
For now it's all about hunting those minnow nations, trying to find a gem which can tick off that nation as quick as possible.
Once I have all my players in their respective shortlists I then sift them out by attributes. I always look for players with Bravery, Determination, Work Rate and Natural Fitness, for this level they really need to have at least 10 for each but with those tiny nations that may be a little hard.
The idea is to sift the really really poor players out, leaving me with a pool of players to then scout, that's if I can as our scouting range is pretty small.
If I can't scout them then the plan is to bring them in on trial and see how my coaching staff rate them and then see if I can afford them.
For those players who make the grade but I currently can't afford or can't bring in then they get added to a "Top Targets" shortlist to use further down the line.
The plan is to do this each Summer.
The final thing I do and this is when a nation has been ticked off completely, I create a note on that nation, what this does is it adds a little * next to the nations flag so it's easy to spot the nations I've completed against the ones I haven't, much easier than having to refer to my spreadsheet each time.
Right enough of that, let's see which nations I've ticked off!
Nations Completed
Nation No. 1 – Germany
Obviously managing in Germany this was going to be the easiest one to complete. Central Defender Alexander Hahn ticked this off pretty quickly. He scored and won the POTM in the 2-2 draw versus Wehen on 11/9/21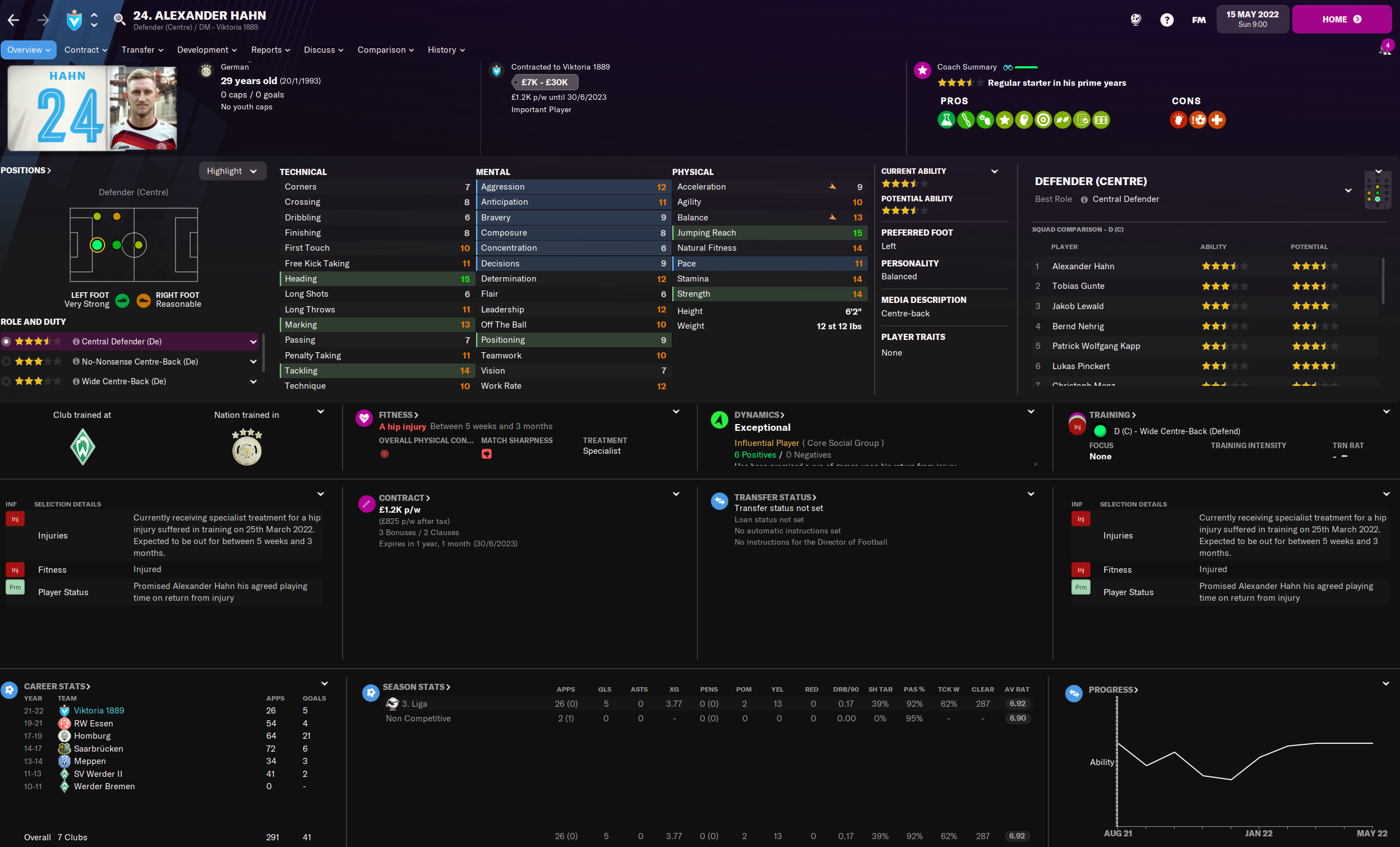 Nation No. 2 – Cameroon
Winger Franck Evina was the next man, he was a lad I picked out in my previous post as a key player and he certainly was. He ended as the clubs Young Player of the Season. He scored his first goal in a 2-1 win over Kaiserslauten and then won POTM in the next game, where we beat Hallescher 4-1. Overall he was a brilliant player and ended with 13 goals in 23 starts.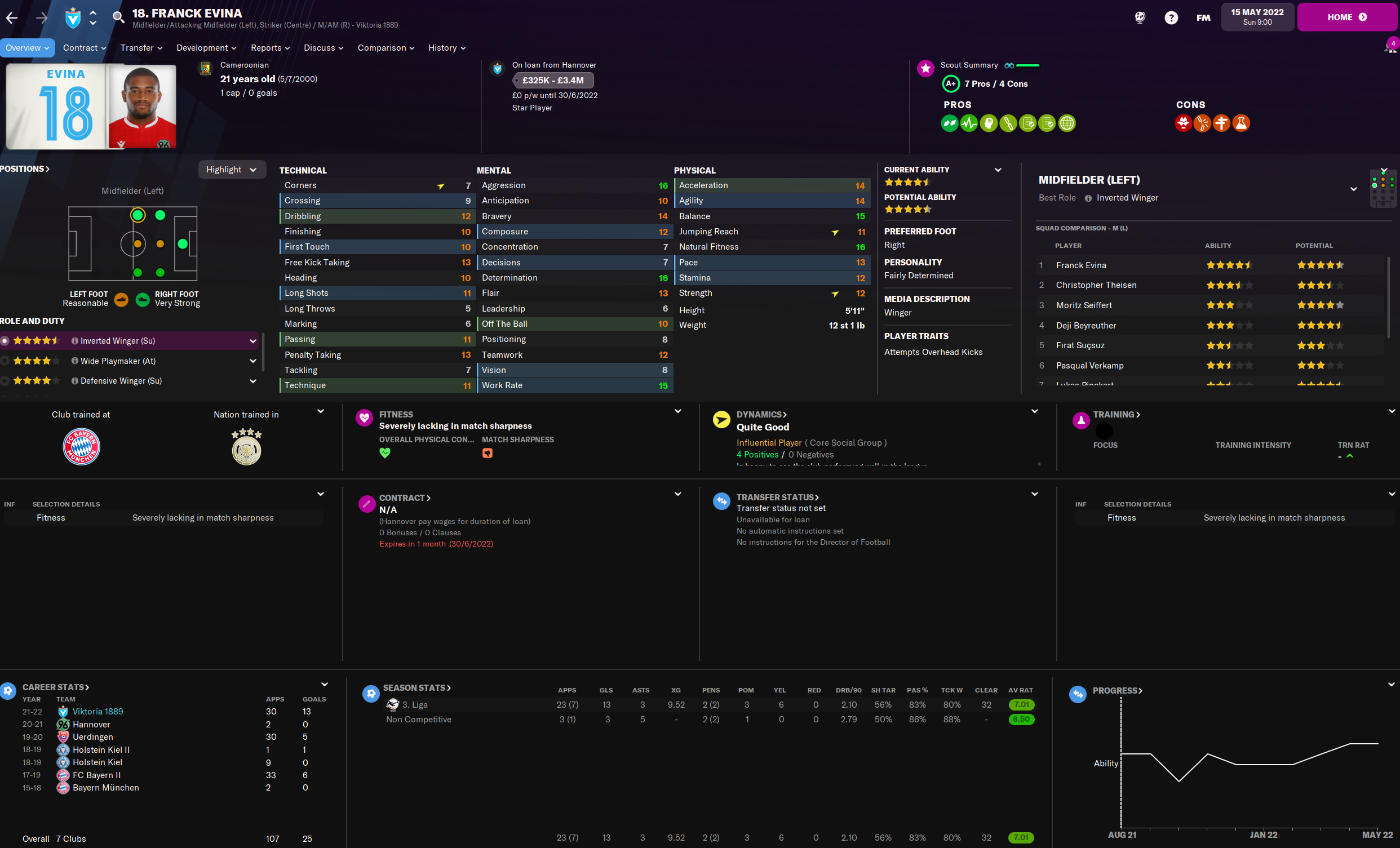 Nation No. 3 – Brazil
Forward Falcao was another lad I'd picked out as a key player and he started the season really well. He scored his first goal in the opening game of the season where we lost 2-1 to Viktoria Koln and won his first of two POTMs in another 2-1 defeat, this time against Verl. Unfortunately the board saw fit to sell him in the Winter, accepting a measly £33k.
Nation No. 5 – Latvia
Now for some smaller nations! The next one to be ticked off was Lativa and it was another player who I pinpointed as key man. Central Midfielder Cebrail Makreckis had a great opening half of the season in a team not getting the results. He scored his first goal in the 4-1 win over Hallescher and won POTM in the opening game of the season.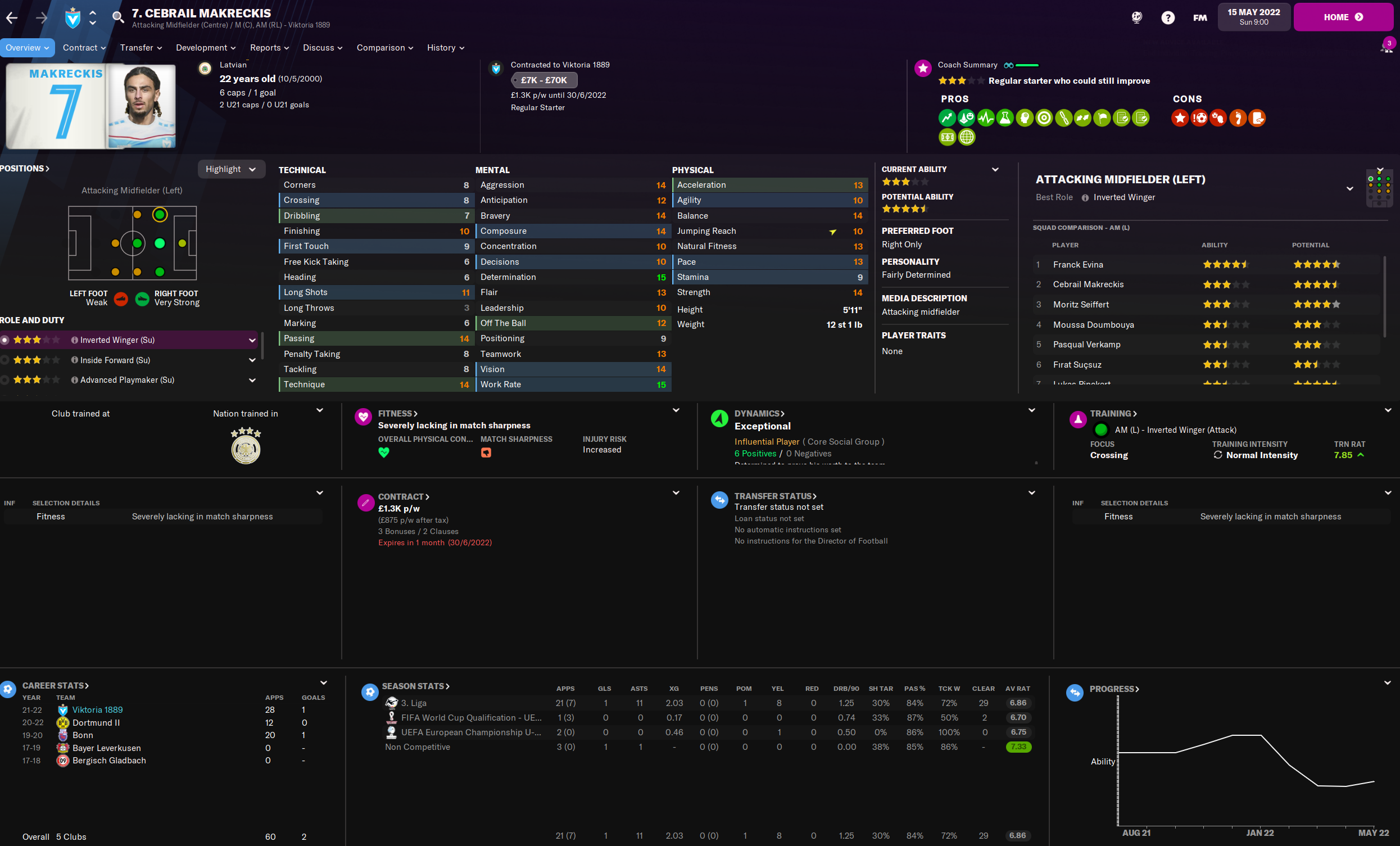 Nation No. 5 – Finland
I have to say I was bloody happy to get this one done as Winger Kimmo Hovi was bloody awful! His opening few games were shocking but somehow he pulled off an amazing performance in the 2-1 win over Kaiserslauten where he scored and won POTM.
Nation No. 6 – Georgia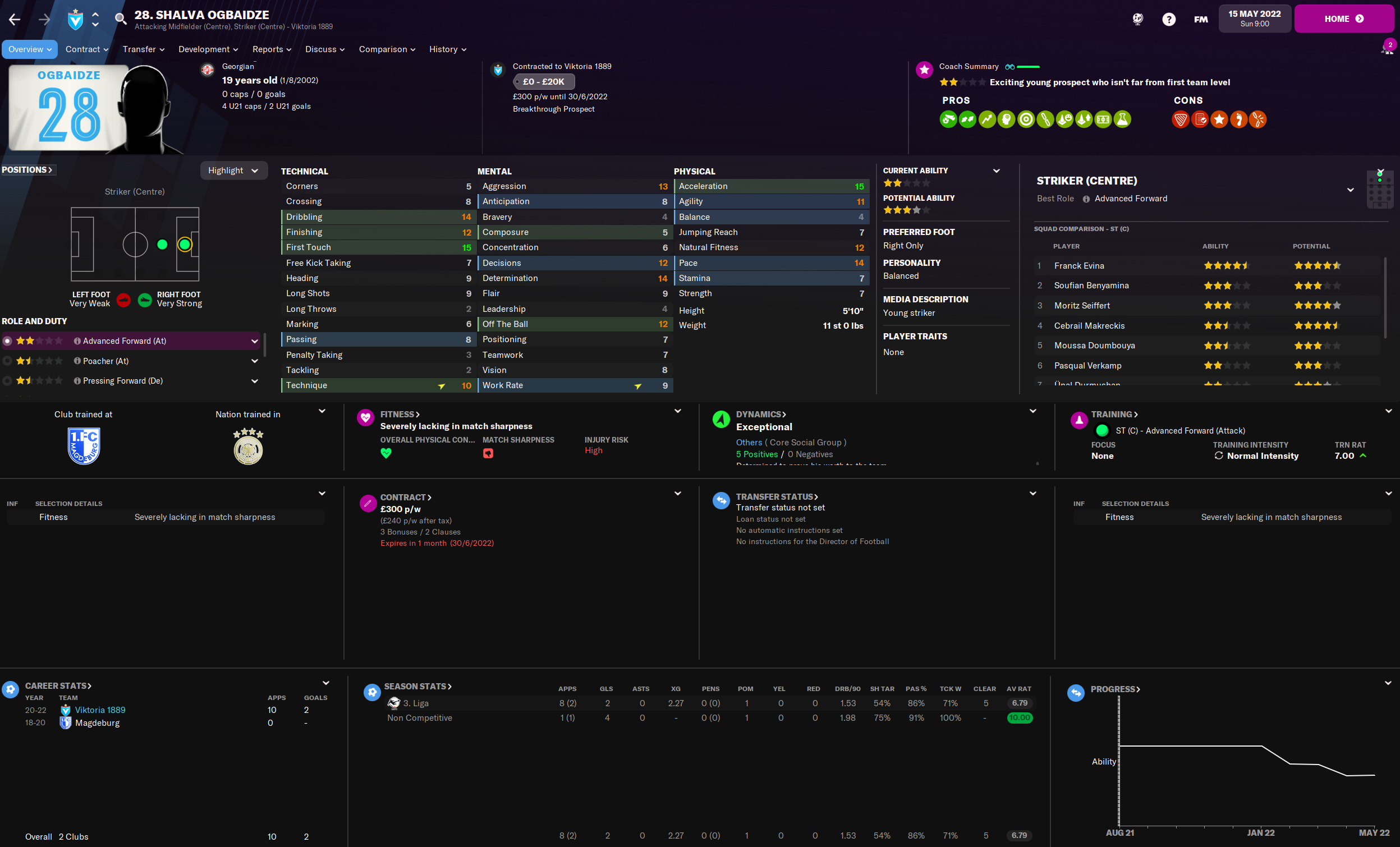 Nation No. 7 – Papua New Guinea
Now for some really small nations! I have to say I made a bit of a cock up with this and the next few signings. I needed to bolster my defensive ranks so went and brought 2 defenders from Oceania and 1 from North America, what I didn't expect is just how bad they were!
This one though was hilarious. Ginale Essacu was awful, his defending was shocking so I got to March and he was really annoying me so I went all out and stuck him up front for the game against Halvese, I mean what's the worst that could happen? Well, he scored twice in 28 minutes in a 2-0 win and ended up as POTM! Mental!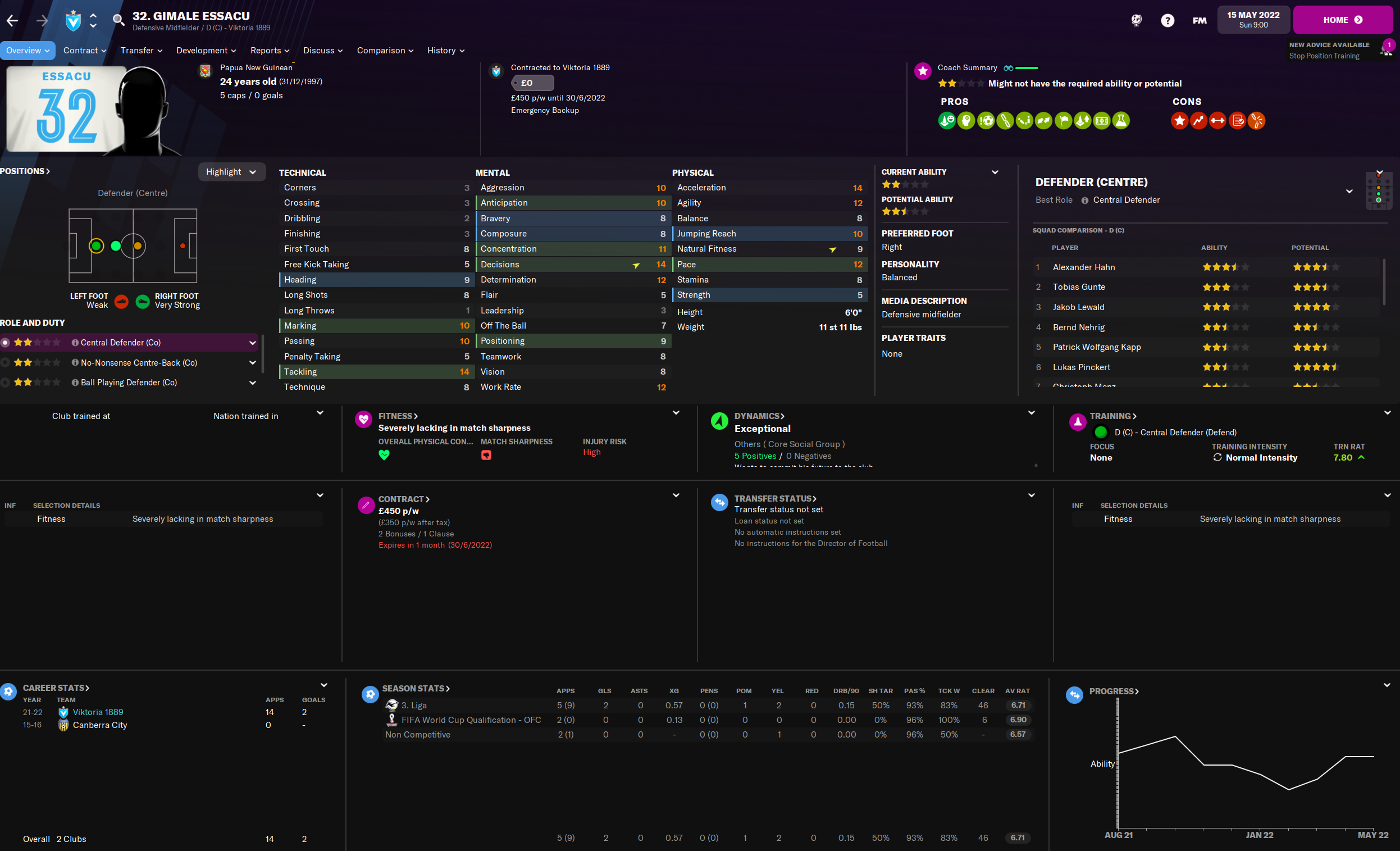 Nation No. 8 – Aruba
Next is Full Back Marlon Pereira, on the face of it he looks quite good and actually won the signing of the season, overall though he was really poor! He scored his only goal in a 3-3 draw against Hallescher in January (it was a penalty) and then somehow won POTM in a 1-0 win over Dortmund B in April. I've no idea how, he did nothing all game!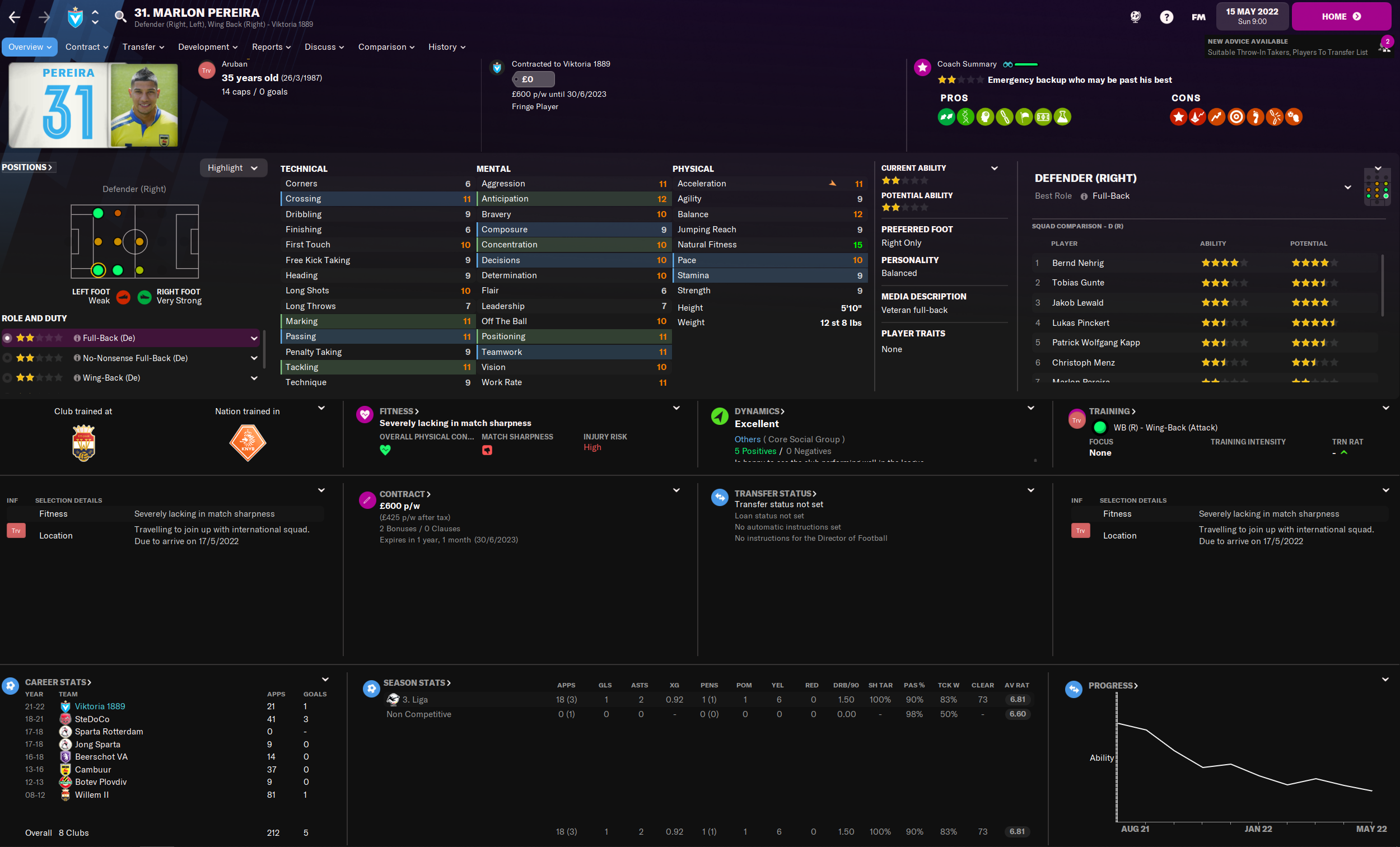 Nation No. 9 – Vanuatu
Another Oceania nation! I did not expect to be getting these done this quick. Again it was another shocking central defender, Joseph Iaruel came in for no money and was just as poor as he looks! Somehow though he scored in a 3-0 win over Hertha Berlin B, a bullet header from a corner and then managed to win POTM in a 1-0 win over Wurzburger in late April, with 4 games of the season to go!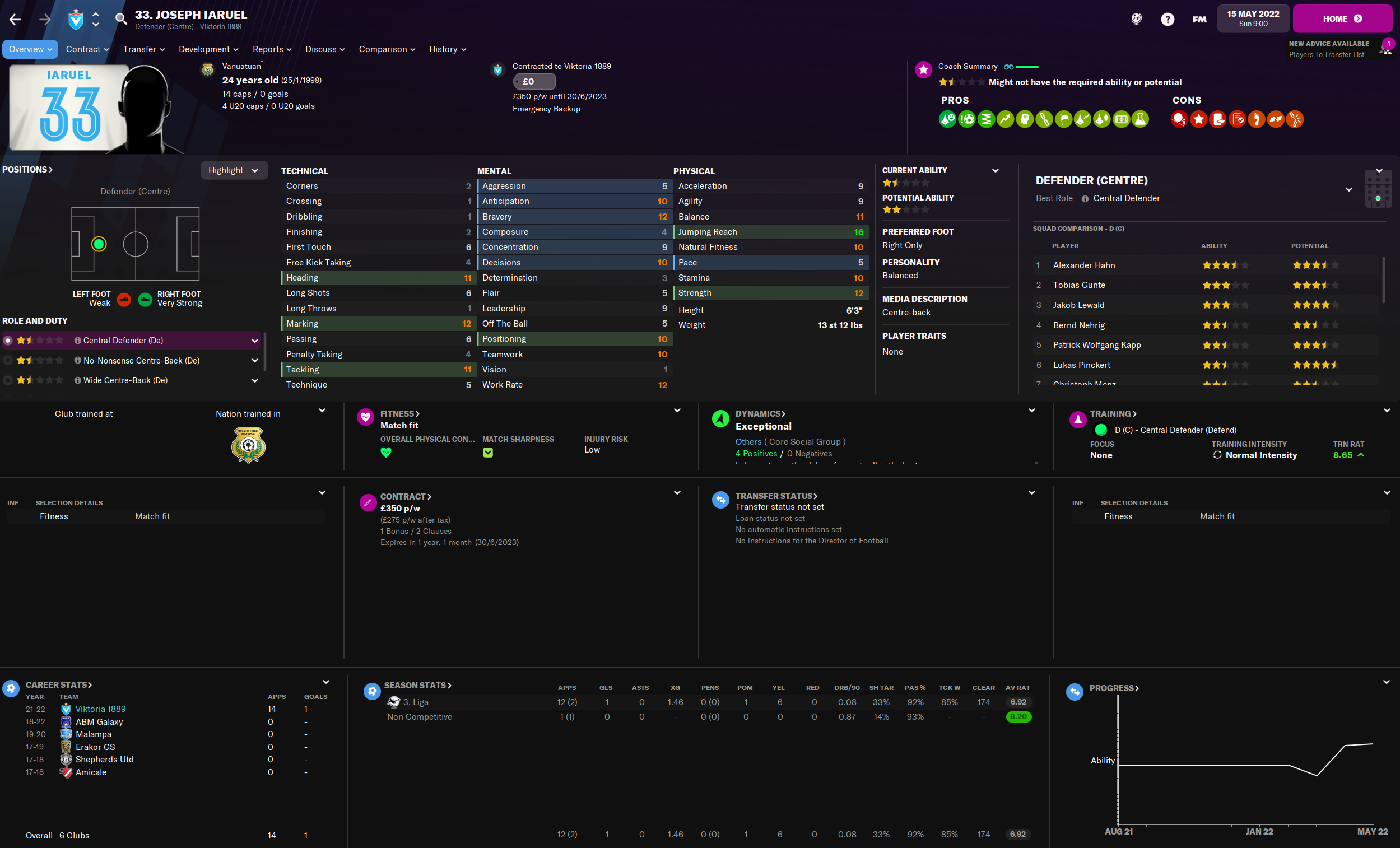 Nation No. 10 – Turkey
I left this one very late and it actually took me 2 men to tick it off!
Firstly is Left Back Firat Sucsuz who won POTM in the final game of the season, a shocking 0-0 draw, he got a 7.1 and was the games best player!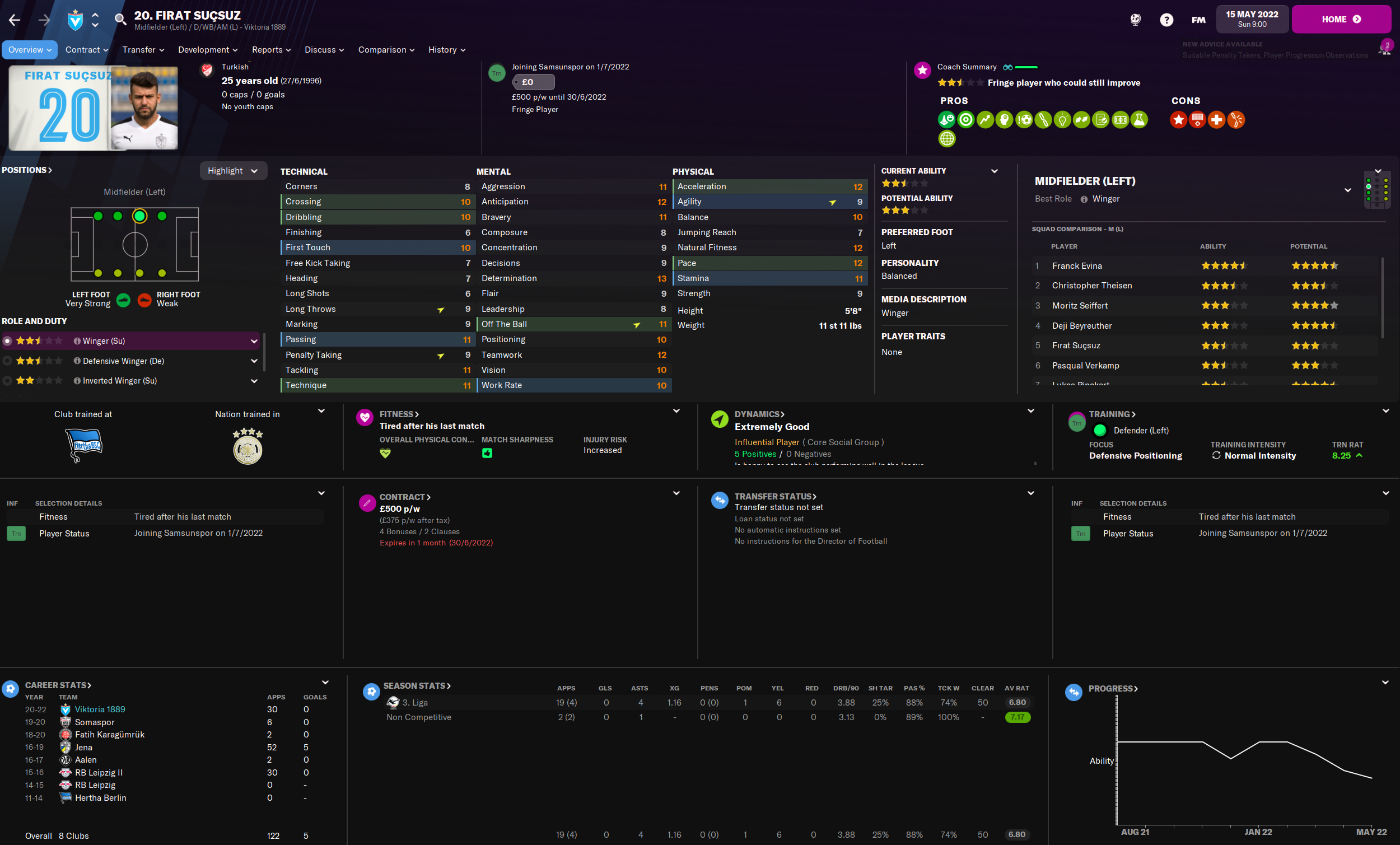 The goal was scored by Striker Unal Durmushan, he did it in the same game that Iaruel won POTM, he scored the only goal in a 1-0 win over Wurzburger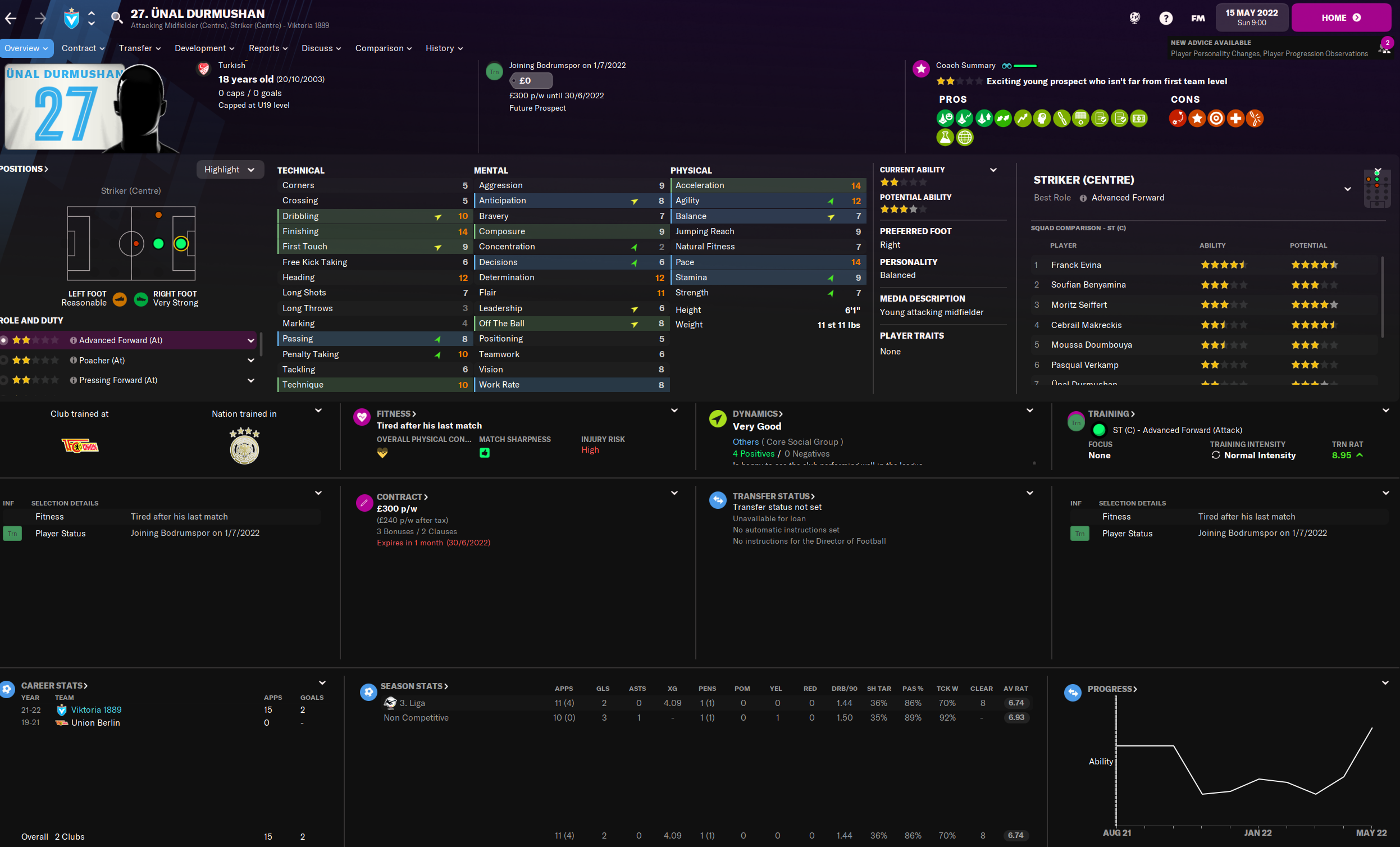 Nations partially ticked off:
Australia – Left Winger Yaya Dukuly, on-loan from Adelaide United played 11 times, scoring twice but failed to get a POTM.
Guinea – Striker Moussa Doumbouya, on-loan from Hannover, played 18 times, scored twice but failed to get a POTM.
Croatia – Central Midfielder Marin Pudic, on-loan from Werder Bremen, played 17 times and failed to score or get a POTM.
So a really positive first season challenge wise, 13 nations in my squad, 10 completely ticked off with 3 partially done.
Other Key Men
There really is only one man to talk about, mainly because he topped most of the stats!
Central Midfielder Christopher Theisen ended as the club Player of the Season, he also won Goal of the Season, the most assists, the highest average rating and the most POTMs! A stunning season for the lad and one I will be relying on next season to help us go for a promotion push.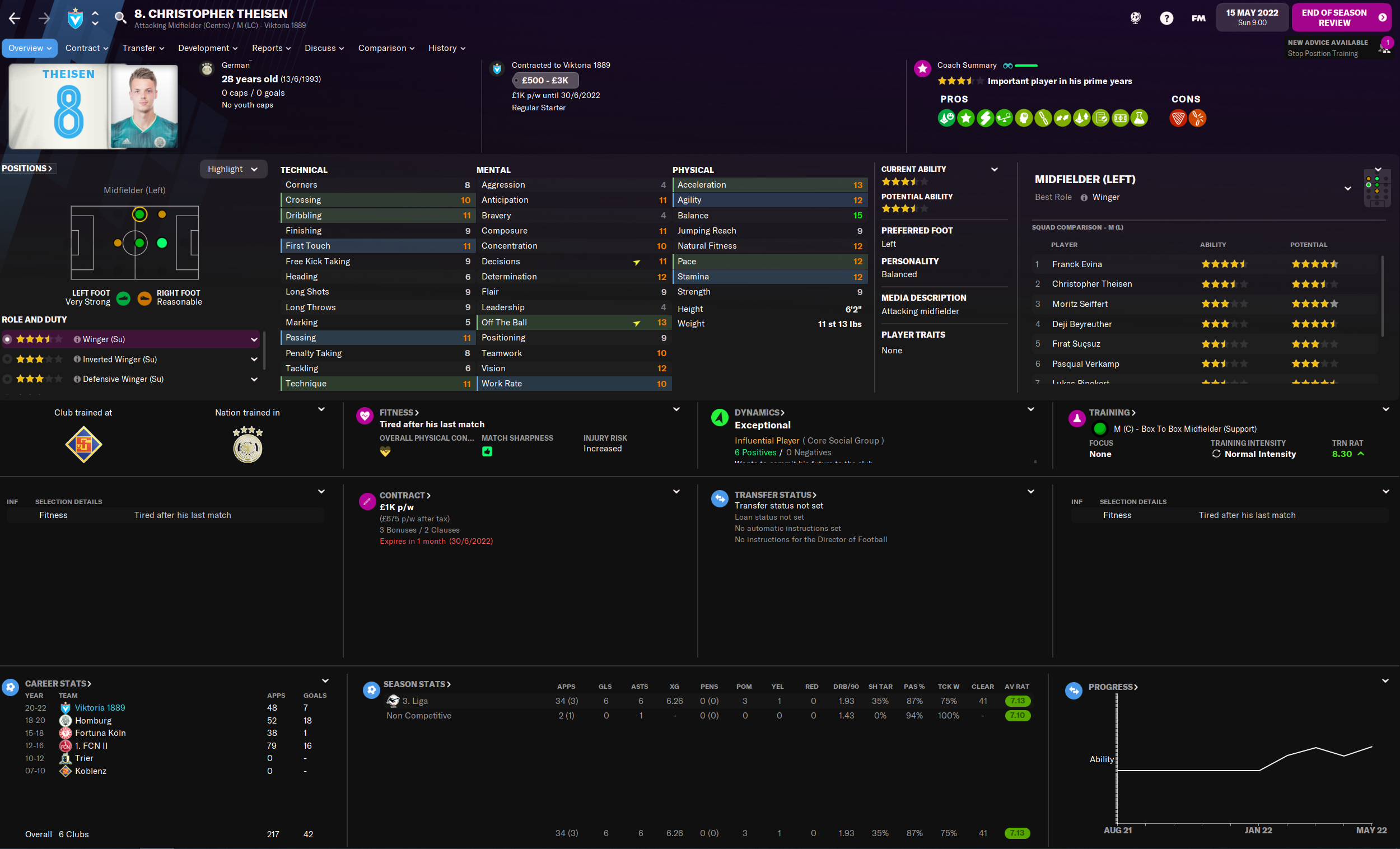 And here for your perusal is the whole squad.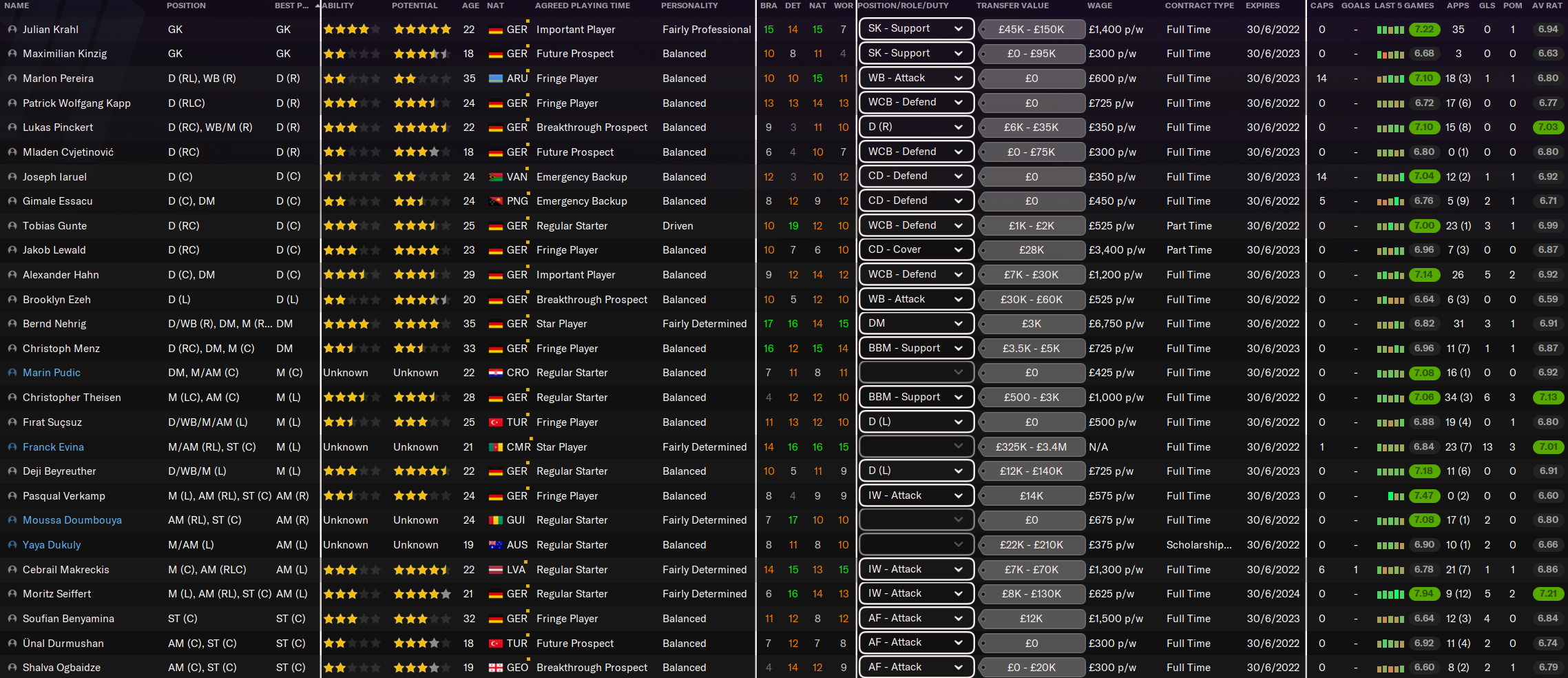 A Financial Mess
One thing I do want to briefly talk about is the state of the finances!

We end the season over £1.5m in the red! It says we've only lost £358k this season but if it wasn't for the board pumping in over £1m to the funds we would be in even more shit.
There isn't much I can do about it to be honest bar bring the wage budget down (more on that in a moment). The player and staff wages have totalled nearly £2m for the season with us only recouping £400k in gate receipts and season tickets. I mean that is unsustainable at best!
Luckily we do have a sponsorship of around £1m to come in so that will at least cushion some of the losses but I need to try and do something and like I said before the only thing I can do is bring the wage budget down.
A Mass Exodus
That is going to be helped by the fact over half my squad is out of contract at the end of the season and due to the financial mess I cannot offer any of them anywhere near the money that they want.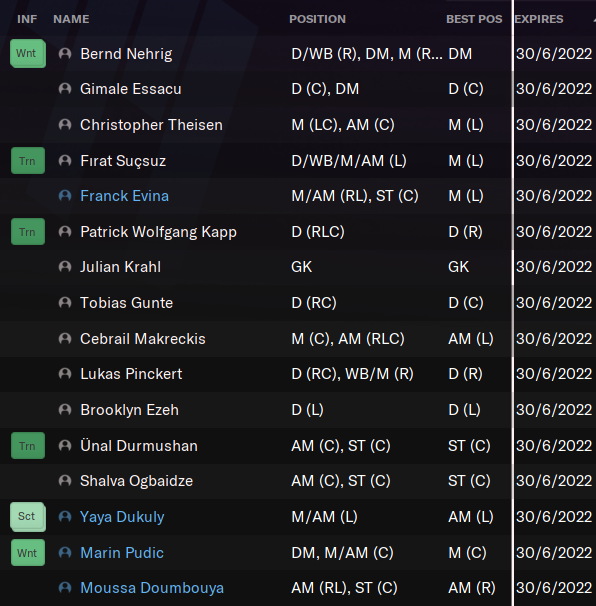 So we will be saying goodbye to 16 players from the first, this leaves us very VERY short but it also gives me scope to bring in a whole raft of new players all from different nations.
Looking ahead
There will be a lot of change this Summer, 16 players out, this leaves me with 11 players in my first team squad and some of them will be leaving as they are players for nations I no longer need. I obviously need a number of German players to satisfy the league requirement but my plan is to bring in 11 or 12 players all from different nations. This should give me a good shot of ticking off plenty next season. Most of these will have to be EU nations to adhere to the league rule but I now need to go away and find some gems from those minnow nations, 3 "Non-EU" are allowed, let's go hunting!!!
I do hope next season we can continue our good form from the second half of this season and try and push ourselves into those promotion/promotion play-off spots but it is going to be tough. I'm not sure how much I'll be able to improve the squad from where it is now, with all those players leaving and very little money to throw about we may struggle more than we have done. If we can push top half and make a big dent in the challenge then I'll be more than happy.
Anyway, that's all from me for now. Thanks for reading.
Steve/LutterworthFox